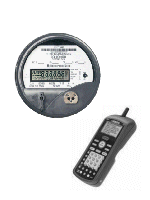 Automated Meter Readers (AMRs)
In an effort to reduce the costs of manual meter reading, utility companies are investing in AMR systems with up to a 20-year useful life. The latest generation of AMR devices, however, uses advanced technology with much greater power demands. These systems must accommodate the growing variety of high-current pulse applications and the higher power needed to log on to LANs and for central systems to access the meters from greater distances.
The long life batteries typically used in these applications cannot deliver large currents. CAP-XX supercapacitors work in conjunction with long-life batteries to provide the peak power needed to operate AMR systems. With their extended operating temperature range (-40°C to +85°C), reduced size, low ESR, and environmental friendliness, CAP-XX supercapacitors can provide the peak power for data transmission, preventing voltage sags at the battery and thus enabling all the energy to be extracted from the battery, prolonging unit life.
Related Documents

Back to Commercial